Movies You Didn't Know Were Based On Books

Did you know that Die Hard, was originally a novel called Nothing Lasts Forever? Nothing Lasts Forever was published in the late '70s, and went out of print before the movie adaptation was released almost a decade later.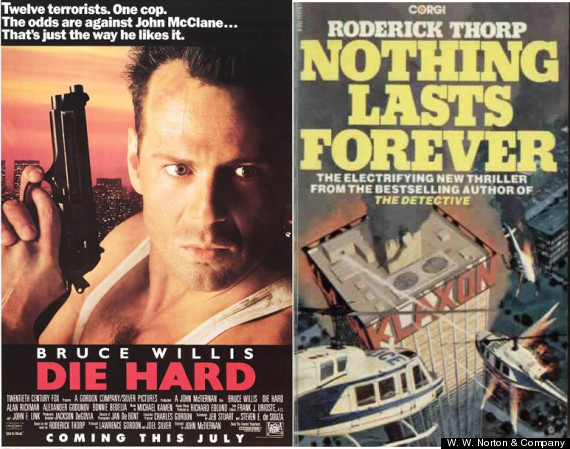 Here are some other movies you might not have known were based on books:
- The film rights for Jaws were sold before the book was published, and the subsequent hype made it a bestseller. Author Peter Benchley later becale an ocean conservationist, spurred by the guilt he felt for perpetuating a negative stereotype towards sharks.
- Cool Hand Luke was written in 1965 by Don Pearce -- the film adaptation came out just two years later.
- Father of the Bride starred Elizabeth Taylor before it starred Steve Martin. The first movie was based on a 1949 satirical novel by Edward Streeter.
- Some fairly major changes were made to the film adaptation of Forrest Gump. For starters, author Winston Groom said he pictured John Goodman as the lead.
- William Peter Blatty wrote both the 1971 novel and the 1973 movie adaptation of The Exorcist.
- Planet of the Apes was first a book called La Planète des singes in 1963, 5 years before the first film adaptation.
- Robert Bloch wrote Psycho in 1959, and Alfred Hitchcock directed the adaptation one year later.
- Gordon Buford wrote Car, Boy, Girl in 1961. 7 years later, the film Herbie the Love Bug was born.
- Homeward Bound is a remake of the wordless '63 film The Incredible Journey, which was based on a novel by Sheila Burnford.
- The Amityville Horror film franchise is not only based on a book published in the '70s, but the book is based on allegedly true events.

Weekdays 6am - 10am



Meredith and AJ have been married for 14 years and have a combined 29+ years of radio experience, with 18 of those years on Utah's airwaves. They both grew up in Illinois and have been living in Utah since 2004. They have 2 children, Lilly (12) and Brady (10) that keep them busy and on their toes.

You might catch this pair on a motorcycle checking out the magnificent Utah scenery. While AJ does the driving, Meredith is in charge of the destination. You might also find them chowing down on some fantastic grub and polishing off a plate of shrimp at Market Street Grill in downtown SLC. As flatlanders by birth, they LOVE the outdoors in Utah.

Meredith is an avid Survivor, The Bachelor, and Amazing Race fan. She can polish off a good James Patterson novel in a weekend and can recite the movie Dumb and Dumber forwards and backwards. AJ gives her a hard time about being older than him, but she says, "If you can't find a good man, raise one."

AJ is a tournament bowler and pitches for the Utah Yankees AABL 35+ team. He's the first to admit he married WAY up. He also takes credit for getting Meredith hooked on Dumb and Dumber.

Join these two on their quest to liven up your mornings with Salt Lake's Greatest Hits and conversation that demonstrates that a little ribbing is the key to any happy marriage.